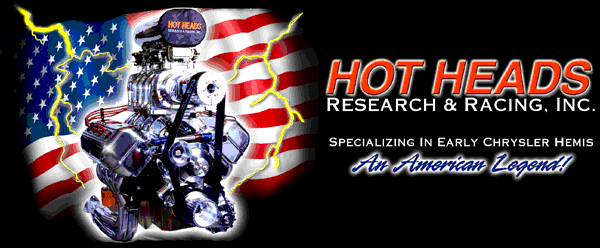 Thanks for helping us keep the Fire Power lit!
Bob Walker
Store hours
Monday thru Thursday 9am-5pm
ALL PRICES ARE SUBJECT TO CHANGE
#50013 Offenhauser short deck 1x4 Dodge (241-270) intake will arrive in Feb.
#50015 Offenhauser short deck Doge (241-270) 2x2 intake will be available 1/20/2023
This web site was last updated 20 October 2022
Contact Hot Heads
New Products
Ordering
Chrysler Parts
Dodge Parts
DeSoto Parts
Hemi Spec's
Hemi Photos
Hemi Links
Australian Distributor
Hemi Swap Meet
Site Map
Your Early Chrysler Hemi Headquarters!

Hot Heads Research & Racing, Inc.
392 Walker's Hollow Trail
Lowgap, NC 27024
Phone: (336) 352-4866 Fax: (336) 352-3892


Interested in finding out more about NYC elite escorts? For a detailed look at what makes these models so intoxicating simply click through to their profile. After all, if you're looking to splash out on an evening with a
New York City escort agency
elite model, you may as well choose someone that matches all your preferences.