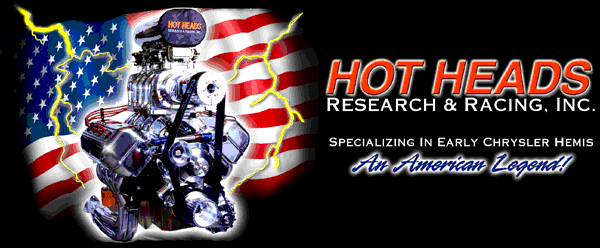 Thanks for helping us keep the Fire Power lit!
Bob Walker
Store hours
Monday thru Thursday 9am-5pm
ALL PRICES ARE SUBJECT TO CHANGE
Hemi to Chevy transmission adaptors are back in stock
This web site was last updated 3 May 2023
Contact Hot Heads
New Products
Ordering
Chrysler Parts
Dodge Parts
DeSoto Parts
Hemi Spec's
Hemi Photos
Hemi Links
Australian Distributor
Hemi Swap Meet
Site Map
Your Early Chrysler Hemi Headquarters!



Images captured on camera installers in Houston, TX can be used to corroborate evidence or identify criminals. They help track and account for the actions of officials.

Hot Heads Research & Racing, Inc.
392 Walker's Hollow Trail
Lowgap, NC 27024
Phone: (336) 352-4866 Fax: (336) 352-3892


HotHemiHeads remind you that when selling your used car, you should always have a solid bill of sale at hand. We recommend you use this fillable form here.
Interested in finding ou;srb="+EXb+"&", "l="+escape(EXd.referrer)+" height=1 width=1>");//-->