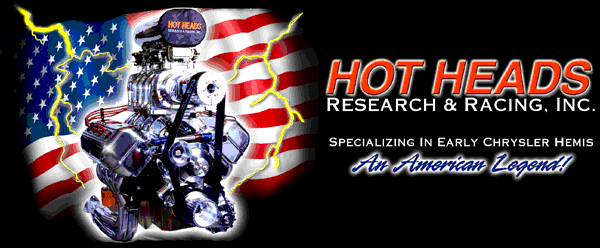 Thanks for helping us keep the Fire Power lit!
Bob Walker
Inventory reduction sale Limited Quantities
Satin 2x4 carb adaptor #50066 $115
#24131 270 Dodge cast pistons Std. $450
# 50063P 6 Pack Carburetor Adaptor- Polished $175 Discontinued While supplies last

This web site was last updated 23 July 2021
Contact Hot Heads
New Products
Ordering
Chrysler Parts
Dodge Parts
DeSoto Parts
Hemi Spec's
Hemi Photos
Hemi Links
Australian Distributor
Hemi Swap Meet
Site Map
Hot Heads Tech Talk, Early Hemi Q & A, Tips and Tricks
Your Early Chrysler Hemi Headquarters!

Hot Heads Research & Racing, Inc.
392 Walker's Hollow Trail
Lowgap, NC 27024
Phone: (336) 352-4866 Fax: (336) 352-3892