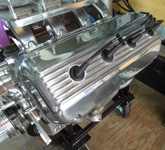 Click photo to enlarge.
Although the #21515 426 spark plug tube boots are still available, the #21517 426 boot adapters have been discontinued as well as the #21513 plug boots for Hot Heads valve covers.
To the rescue!
Hot Heads has a spark plug tube boot that fits Hot Heads, Stock, M/T, Donovan and Moon valve covers, looks good and keeps water and dirt out, too. PN21513C costs $40./set and are in stock now!